Style Your Graphic Tees – Different Outfit Ideas For Styling Graphic Tees into Various Look
Graphic Tees are T-shirts printed with images, text, designs, or artwork on the front, back, or sleeves. Starting from logos, slogans, and various illustrations to a wide range of complex and artistic creations are found printed on graphic Tees. It's more of a self-expression of an individual who wants to showcase their interest, humor, belief, and style through their wardrobe from casual streetwear to high-fashion collections that they choose to wear.
Graphic tees are more like a canvas of creativity and expressiveness than just comfortable wardrobe staples. It can be worn in countless creative ways because of its versatility and expressiveness as a fashion-forward outfit. It doesn't matter whether you are a fan of pop culture, vintage design, sports or music, or quirky slogans, – graphic tees offer an excellent opportunity to showcase your personality through fashion.
Tired of the same old jeans-and-tee combo?
It's time for you to explore the myriad of innovative ways to style your graphic tees. From casual outings to statement-making ensembles, let's explore 25 creative ways to style your graphic tees and elevate your fashion game.
TABLE OF CONTENT
Casual Chic
#1 Layer Your Tees Up With a Denim or Leather Jacket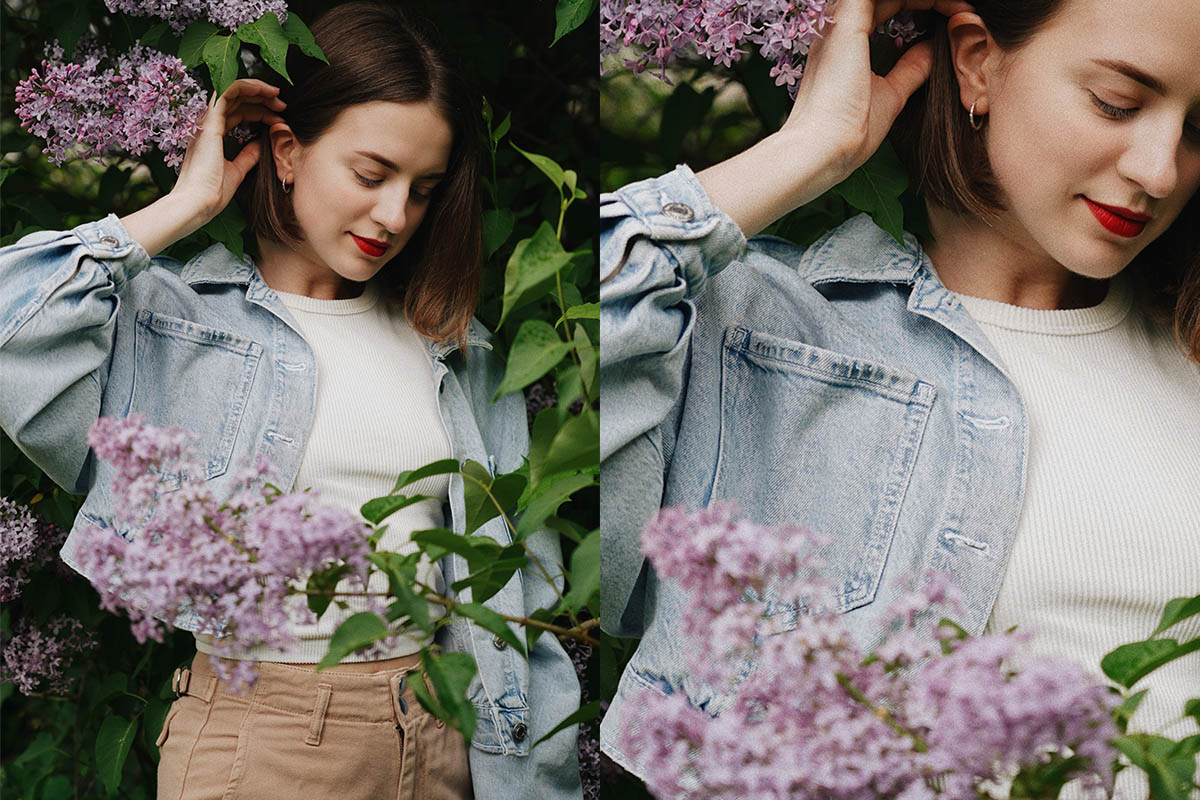 Layering is a perfect way to add depth and dimension to your graphic Tee. Create a combination of your favorite Tee with a Denim or Leather jacket for an edgy vibe. An open flannel shirt as a layer on your T-shirt can be an alternative for a more casual and relaxed look. Be open to experimenting with different colors, textures, and lengths to create visually appealing combinations.
#2 Knot, Tuck, and Roll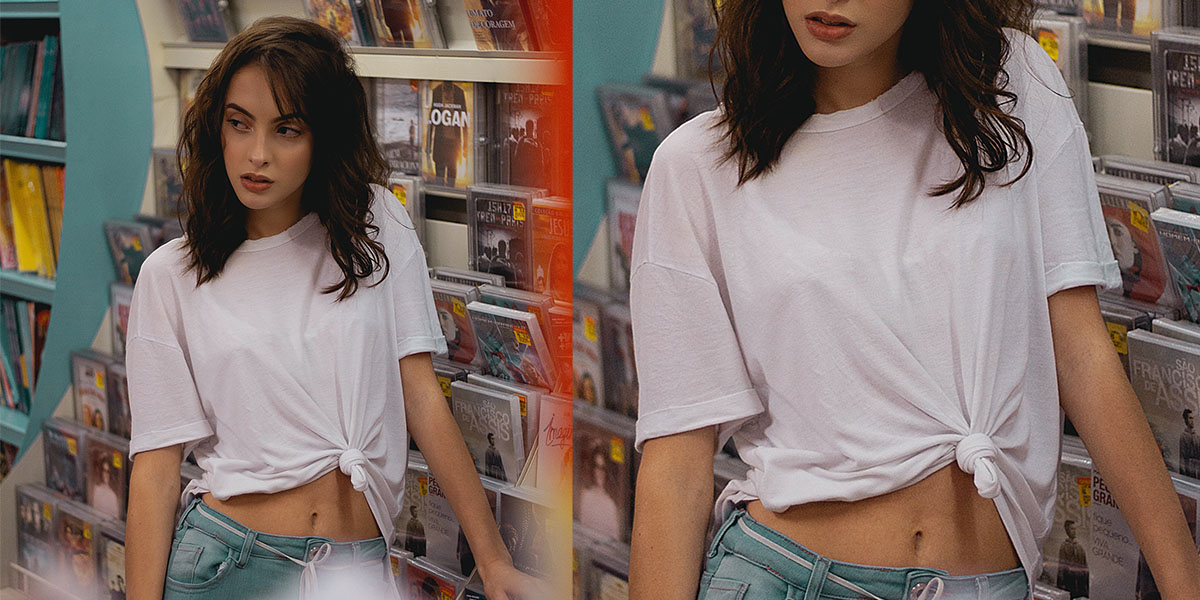 Why not play around with how you wear your Tees? Experimenting by tying a knot at the front or side of your tee can give you more of a chicky vibe. You can also tuck your tee into high-waisted jeans or a pencil skirt for a polished and put-together appearance. Besides, rolling the sleeves back for a paid-back and summer-time look can completely change the dynamic of your outfit.
#3 Athleisure Fusion  
For an on-trend athleisure look, blend comfort and style by pairing your graphic tee with joggers or track pants. Complete the look with sneakers and a sleek fanny pack for a sporty yet trendy outfit. This combination merges comfort with style, making it ideal for a day of errands or a casual hangout.
#4 Off-the-Shoulder Elegance
One of the unique and fashionable ways to transform your graphic tee into an off-the-shoulder top is by pulling one side down. Pair it with high-waisted jeans or a skirt for an effortlessly chic appearance.
Edgy Vibes
#5 Style Your Graphic Tees With Accessories 
Minimalistic bottoms and bold accessories like a leather jacket and black skinny jeans transform your simple graphic tee into a statement outfit. Besides, using a chunky belt on your tee to cinch your waist can give your appearance a stylish look.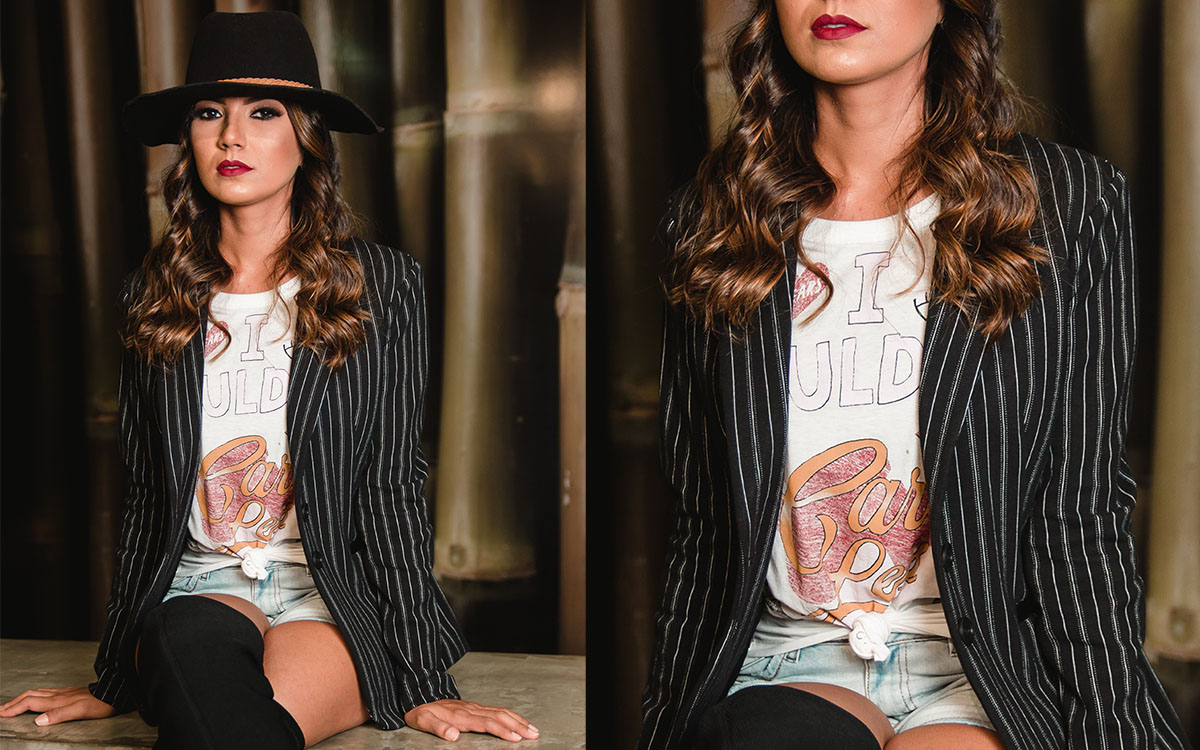 Hats, eye-catching scarves, oversized sunglasses, layered bracelets, studded earrings, or even a chunky statement necklace can amplify the edginess of your overall appearance and add a touch of flair to your personality in the blink of an eye.
#6 Tee Dress
Discover the art of effortless cool vibe, relaxed or comforting charm, and versatility with an oversized graphic tee. This style piece can be a statement on its own or a canvas for creativity.
For a casual-chic look, knot the tee at the waist and pair it with high-waisted jeans or bicycle shorts for a sporty vibe. Layer it with a denim jacket or flannel shirt to add extra dimension. To embrace a street-style vibe, contrast with bike shorts and chunky sneakers. If you keep your tee loose then accessorize with a wide statement belt to balance the loose silhouette and hoop earrings to define your silhouette. Complete the look with chunky sneakers or ankle boots for an urban edge.
The oversized tee's relaxed silhouette offers comfort while showing a nonchalant chic. It offers comfort without compromising style, making it a must-have for those seeking a trendy, laid-back aesthetic.
Statement Styling
#7 Monochrome Magic 
Opting for monochromatic outfits can be effortlessly stylish, and pair your graphic tees with this trend seamlessly. Choose a graphic tee featuring a design within your chosen yet similar color palette. Now pair it with coordinating bottoms and accessories. This combination can create a sleek and cohesive look that can provide a visually appealing look in no time.
#8 Bold Bottoms
Opting for patterned or brightly colored pants can create a bold contrast with your tees and give you a standout outlook amid the crowd of fashion avenues.
#9 Statement Footwear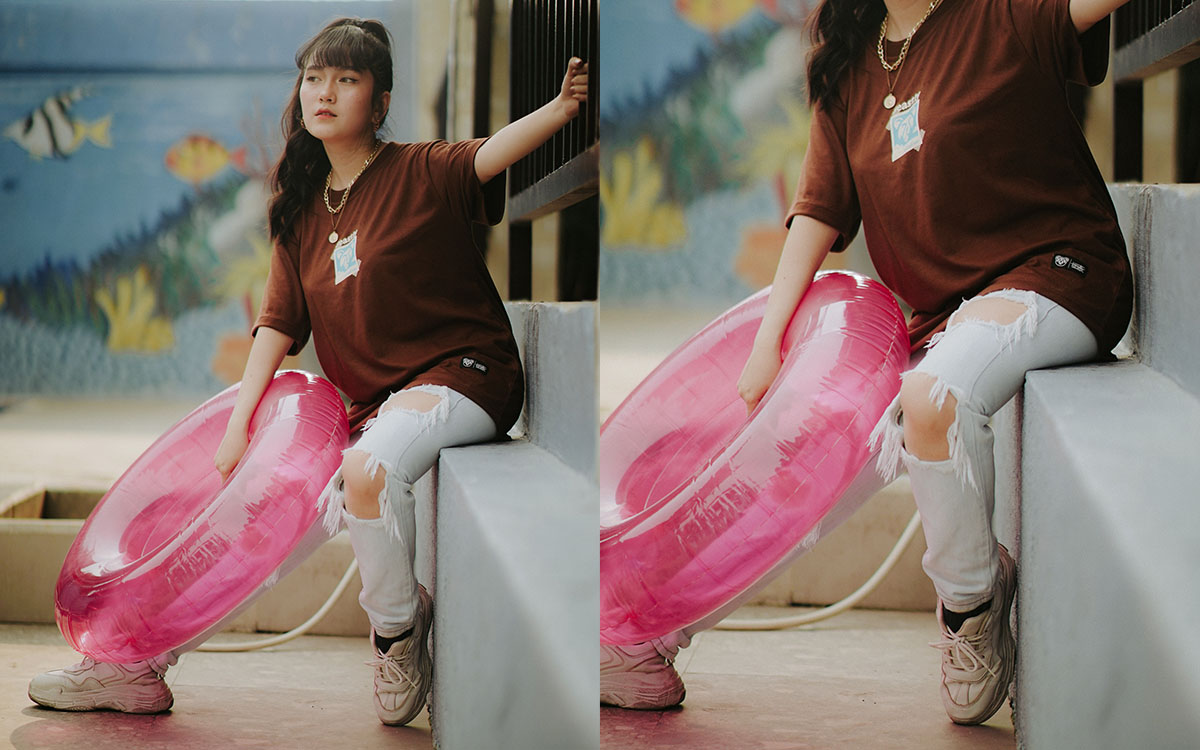 Your choice of footwear can significantly influence the overall vibe of your outfit. Whether you opt for combat boots, platform sneakers, or strappy sandals, your shoes can amplify the impact of your graphic tee. Choose footwear that complements the style you're aiming for, whether edgy, casual, or chic.
Bohemian Touch
#10 Skirt Sophistication
Create a bohemian-inspired image by combining your graphic tee with a flowy maxi skirt, a wide-brimmed hat, and comfortable gladiator sandals for a carefree yet stylish boho-spirited outfit. Adding a pile of layered necklaces can complement the laid-back and free-spirited vibe.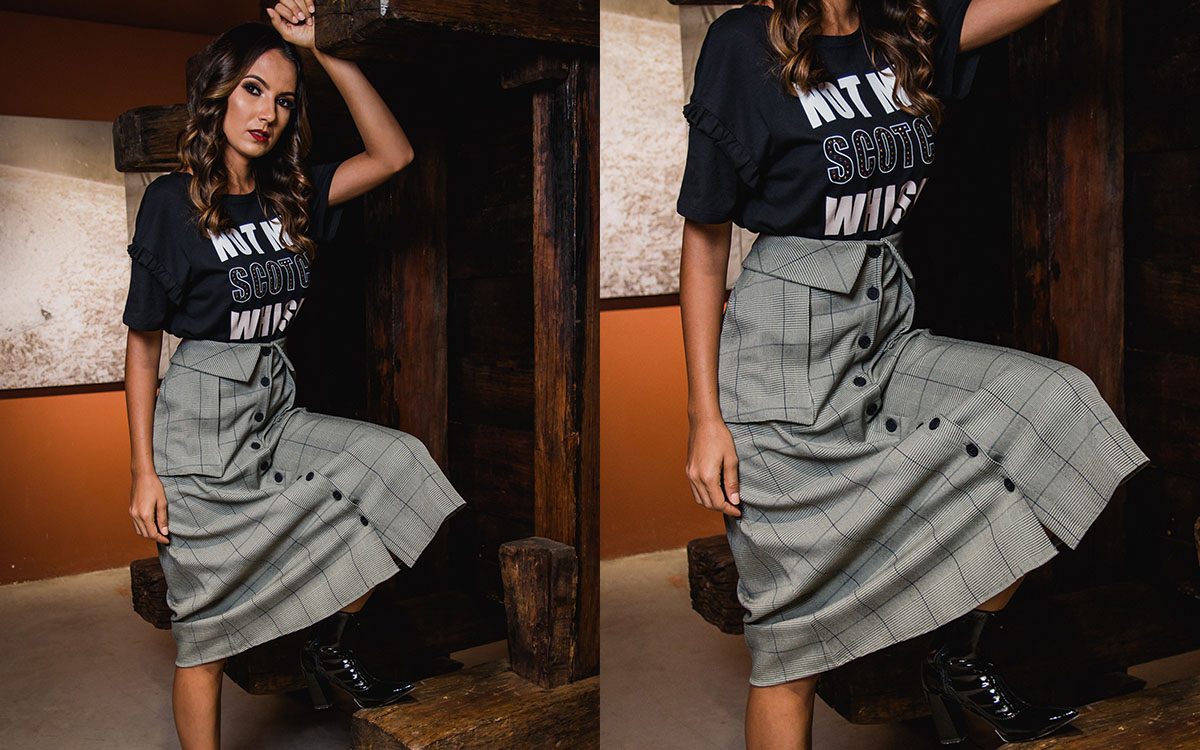 Also, challenge the norm by teaming your graphic tee with an A-line mini or a midi pencil skirt. This unexpected pairing creates a playful and fashion-forward outlook. Opting for a tucked-in tee can highlight your waistline and maintain a balanced silhouette.
#11 Embroidered Details  
Opt for an intricately embroidered tee from your wardrobe and pair it with flared jeans that can provide a radiant boho-chic ensemble.
Seasonal Switch-Ups
#12 Summer Breeze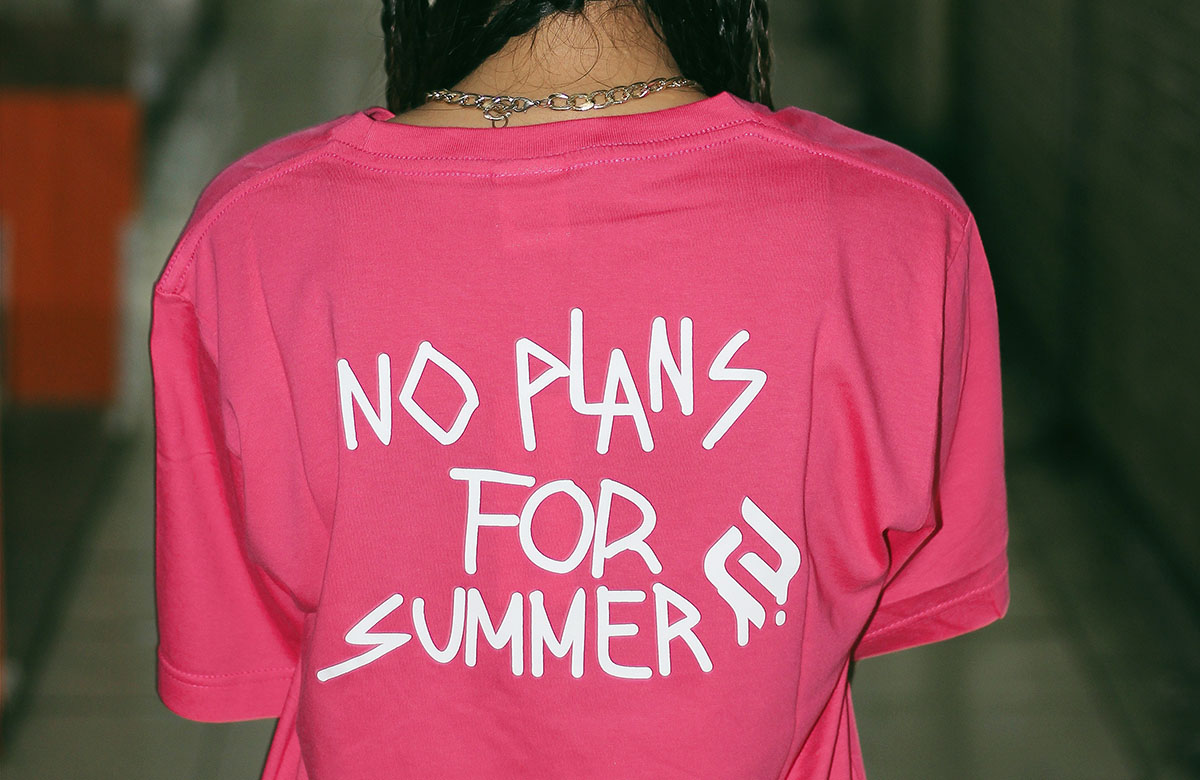 Summertime brings a lot of opportunities for fashion lovers. Pair your graphic tees with high-waisted shorts and sandals for a carefree summer look.
#13 Winter Warmth – Cozy and Chic
Layering your graphic tee under a chunky knit sweater and pairing it with warm leggings and boots could be a trendy outlook in winter. Also, a cozy cardigan over your tee is a comfortable and charming fall or winter look that's perfect for transitional weather. Besides, the combination of an oversized cardigan with your graphic tee is an excellent way for lounging or running errands while maintaining a stylish appearance.
Vintage Vibes
#14 Go Retro with High-Waisted Jeans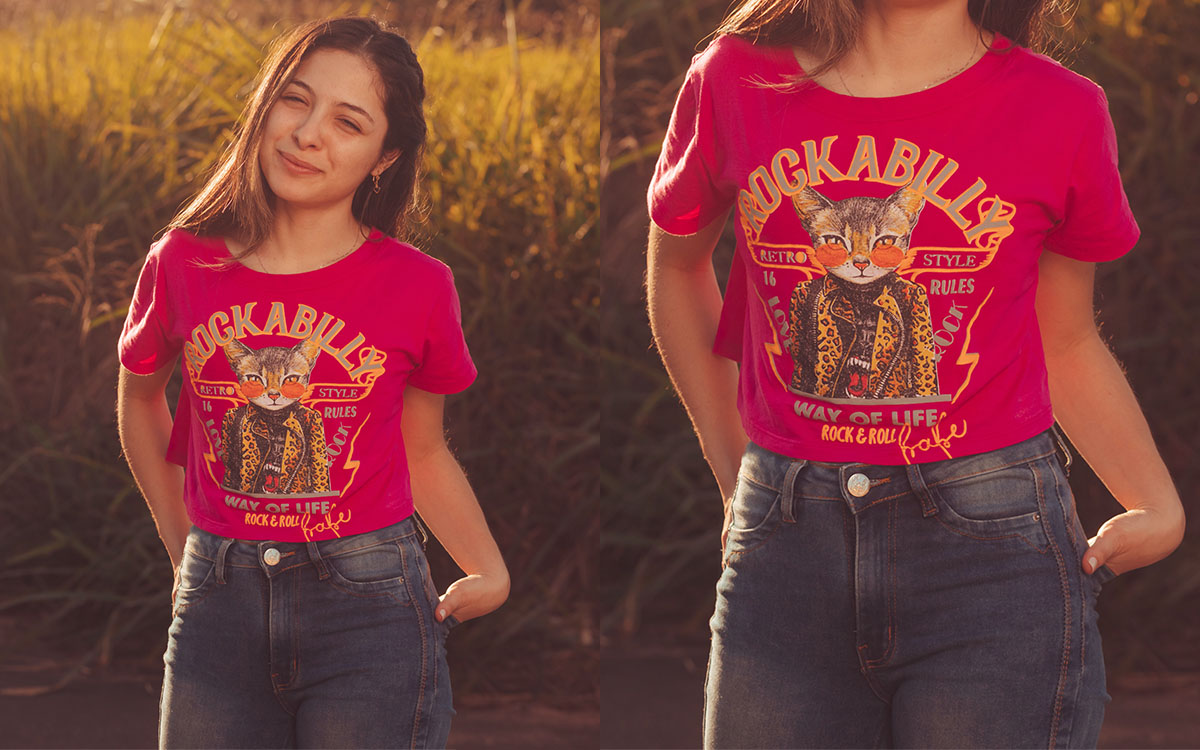 High-waisted jeans have made their return to the fashion street once again, and they're a perfect match for vintage-inspired graphic tees. The high-rise cut enhances your waistline and elongates your legs, creating a flattering silhouette. Retro sneakers or ankle boots give you a dynamic look and create an effortlessly cool vibe.
#15 Throwback Accessories
Pairing your graphic tees with high-waisted mom jeans or vintage-inspired skirts gives your outcome a retro feel. Accessories like round sunglasses or vintage belts create a nostalgic vibe. You can also tuck your tee into high-waisted trousers and tie a vintage scarf around your neck.
Feminine Flair
#16 Tees and Skirts
You can balance the casualness of your tee with a tulle skirt for a charming contrast. Tucking your tee into a high-waisted skirt and cinching it with a statement belt can be another way to highlight your waist. Besides, opting for a pastel-colored tee and pairing it with a floral skirt can highlight your soft and feminine touch. Another style could be your graphic tee with a wrap-around midi skirt and ballet flats for an effortlessly elegant look.
Artistic Expression
#17 Mix & Match With Prints
Don't be afraid to mix and match your graphic tee with different yet complementary patterns and prints. Graphic tees can perfectly adapt various textures and designs, such as floral skirts, plaid pants, or striped shorts.
A consistent color palette can always maintain a balanced and coordinated appearance. Yet, ensure that the colors and designs complement each other for an aesthetically pleasing outcome.
#18 Artistic Layers and a DIY Touch
Style your Graphic Tee with an artistic layer and a DIY touch to transform clothing into captivating canvases. Blend your imaginative ideas with various crafting techniques like stenciling, embroidery, patchwork, etc. to create visually pleasing wearables.
By infusing personal style, your graphic tees can become more than fabric; they change into something more like a statement of originality. Unleash your creativity, from minimalist subtlety to bold and vibrant designs, and turn each tee into an outlet for self-expression. With every brushstroke, stitch, or ornamentation, you create your wearable fashion masterpiece. This doesn't only showcase your artistic mind but also connects you intimately with your wardrobe.
Minimalist Palette
#19 All the Way to Minimalist
Discover the power of simplicity with a minimalist touch to style your Graphic Tees. Simply embrace the clean lines, subtle details, and understated elegance as you opt for a collection that speaks of your uniqueness.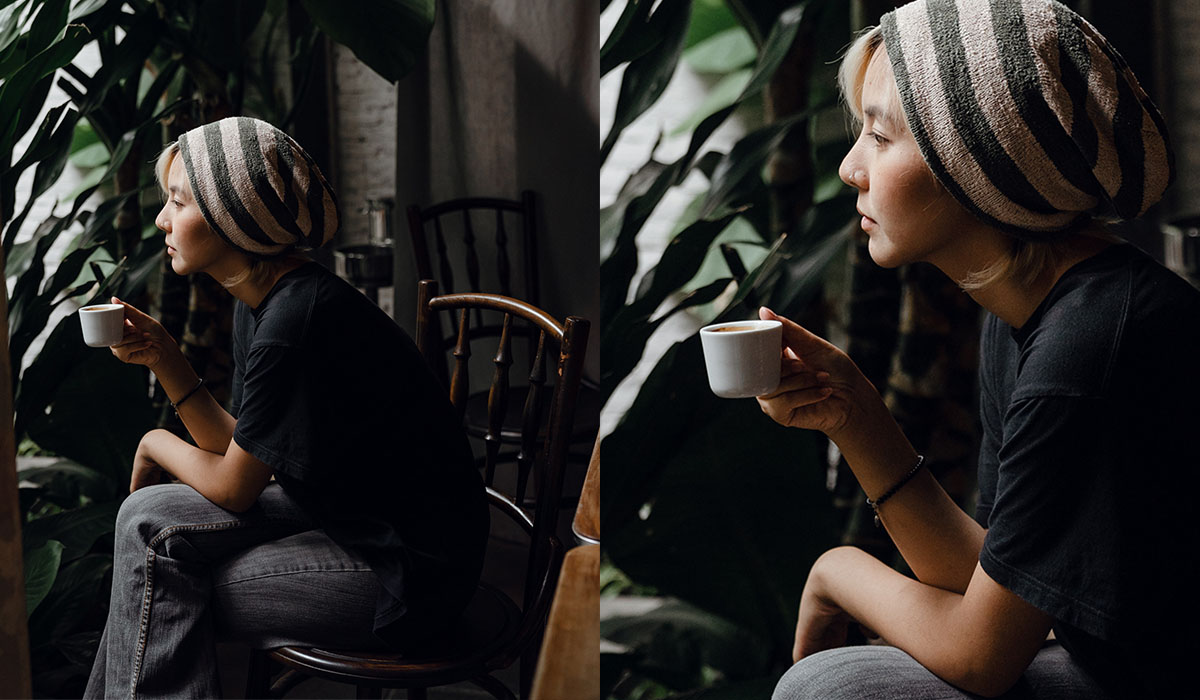 "Less is more" is a perfect expression in minimalist-style graphic tees. Choose a white crew-neck graphic tee with a simple black outline of a palm tree on the front. Pair it with high-waisted black jeans and white sneakers. Add a touch of sophistication with a sleek black leather watch and a single silver ring. Keep accessories minimal, perhaps a thin black bracelet. Keep a clean, natural makeup look and a low bun for your hair. This minimalist approach allows the graphic tee to be the focal point, creating an effortlessly chic outfit that is both comfortable and stylish.
#20 Black and White
Recreate your Graphic Tees with a black-and-white minimalist touch that redefines elegance. The monochromatic palette brings a sense of timeless sophistication to your wardrobe. Embrace clean, understated designs that exude confidence and refined style.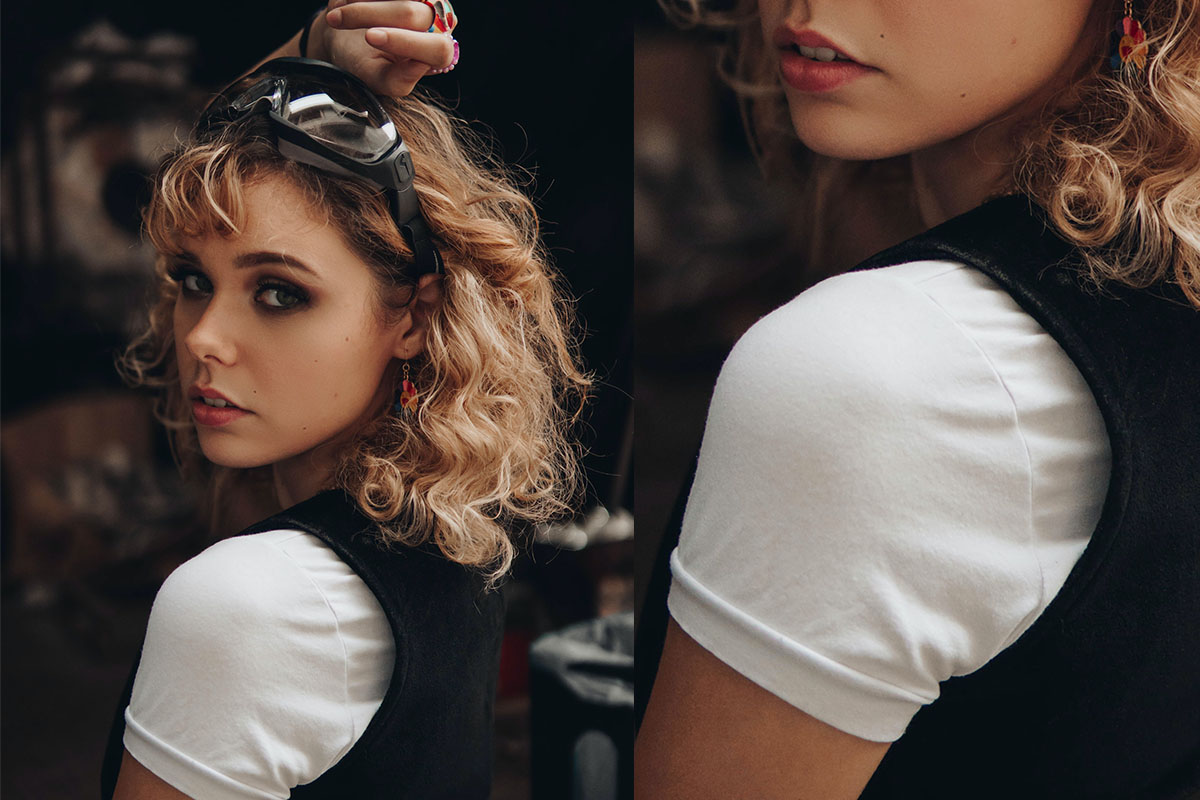 Select a black crew-neck graphic tee featuring a small white abstract design on the chest.
Pair it with high-waisted, tailored white trousers and black leather sneakers. Keep accessories to a minimum – a delicate silver necklace and simple white stud earrings. Choose a sleek black leather belt to accentuate the waist. Opt for a clean, matte makeup look with winged eyeliner and a nude lip. Keep your hair in a sleek low ponytail. This ensemble embraces the elegance of black-and-white minimalism while allowing the tee's design to shine.
#21 Classy Monotone – All-Black Ensemble
Create art of edgy minimalism and monochromatic elegance by styling your graphic tee with an all-black ensemble. Take your tee to the spotlight by pairing it with black skinny jeans, a leather skirt, or leather leggings for a sleek base.
Add a black leather jacket for a rebellious vibe or a tailored blazer for a touch of sophistication that doesn't overshadow the tee's visual impact. Opting black combat boots or stilettos can amplify the chic factor. Or, embrace black sneakers to maintain the streamlined look.
The monochromatic canvas creates a bold contrast that accentuates the graphic design. This dark, minimalist approach infuses your graphic tee with a sense of urban sophistication, proving that black is indeed the ultimate canvas for versatile and impactful styling.
Formal Flair
#22 Dress it up with a Blazer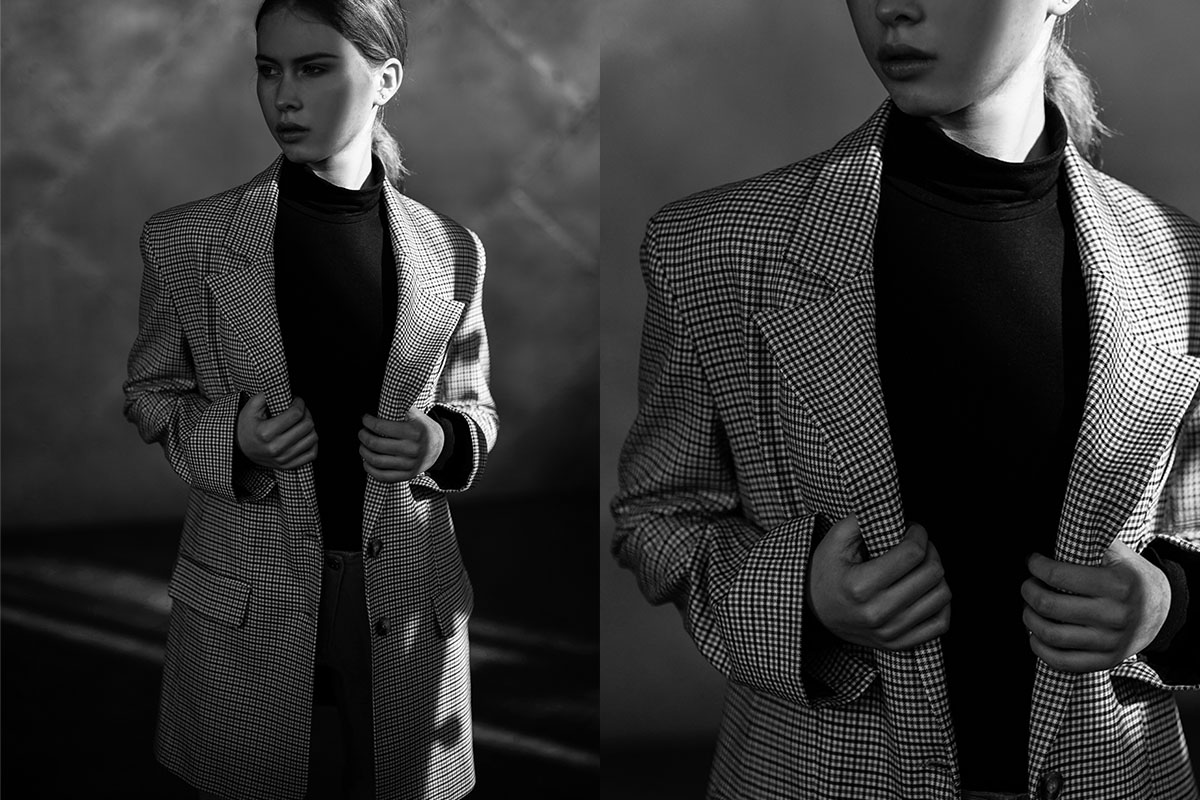 Do you believe graphic tees are only for casual occasions? If so, then pair your tee with a tailored blazer and dress pants for a stylish contrast to showcase both casual and formal statements. This combination expresses your personality while maintaining a sophisticated edge at the same time.
Playful Pops of Color
#23 Colorful Layers
Elevate your fashion game by introducing vibrant layers into your graphic tee outfit. Begin with a captivating graphic tee as your canvas. Add a burst of color by using lightweight cardigans or open button-down shirts in bold hues. These colorful additions create depth and make your tee pop.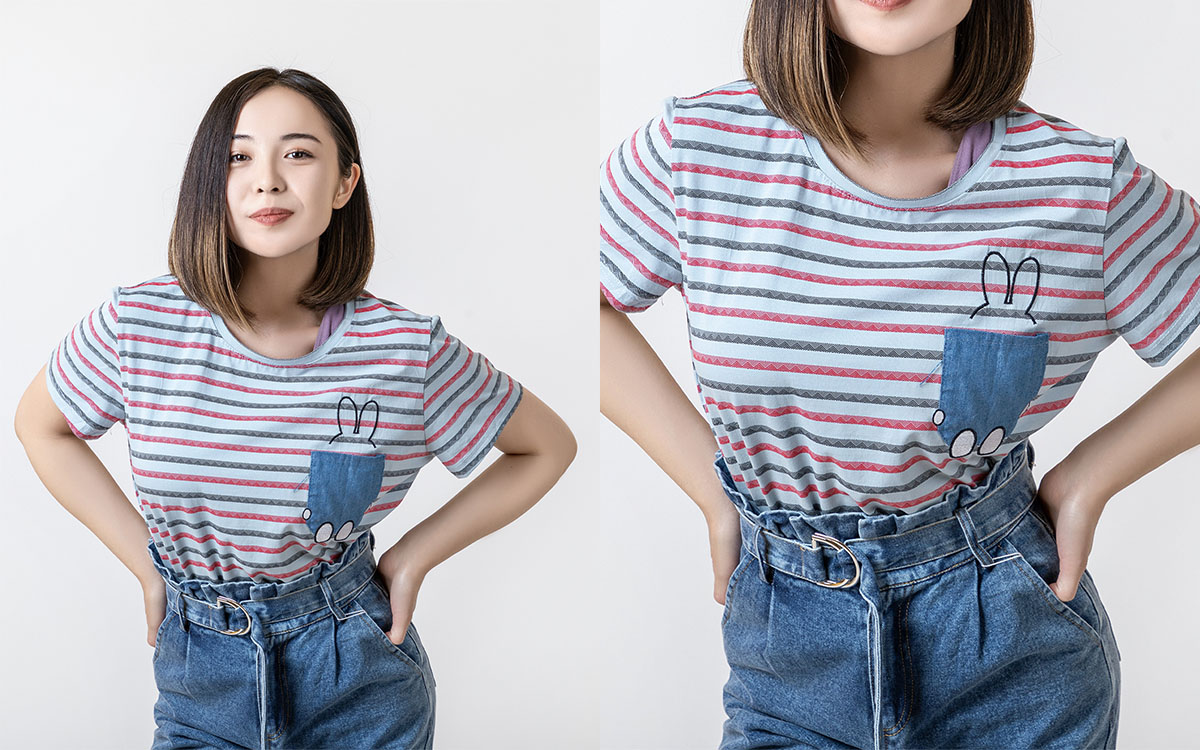 You can also experiment with contrasting shades to achieve a dynamic visual contrast. Balance is key, so pair your graphic tee and layer with well-fitted jeans or tailored pants. Also, layering your tee under a brightly colored jacket or sweater can infuse energy into your outfit.
Playful accessories like statement necklaces or patterned scarves can tie the outfit together. Combining vivid colors can transform your graphic tee into a sophisticated fashion statement that can reveal both your personality and fashion sense.
#24 Colorful Denim
Elevate your casual look by combining graphic tees with colorful denim jeans for an effortlessly stylish look. Vibrant denim shades like deep blues, rich reds, or even pastel pinks can inject a pop of color into your outfit. The goal is to showcase your graphic tee as a center of attraction while the colorful denim adds a touch of uniqueness. Coordinate the hues wisely, ensuring they complement each other. Complete the look with sneakers or ankle boots for a balanced aesthetic.
Global Glam
#25 Cultural Fusion
Embrace cultural fusion by merging diverse traditional clothing from different cultures with your graphic tees. Incorporate fancy textiles, intricate patterns, or ethnic accessories that resonate with your style and heritage.
Select tees featuring diverse art, symbols, or slogans that resonate with different traditions. Now, style your graphic tee by pairing it with different cultural outfits – like a vibrant kimono for an East-meets-West fusion, or layer with a bohemian scarf and harem pants for a global flair, Aztec-inspired tee with embroidered denim, or, Bollywood-themed shirt with harem pants.
Be mindful of colors and patterns to maintain harmony. Accessorize with ethnic jewelry, headpieces, or artisanal bags, that reflect the fusion, bridging the styles together.
By embracing this approach, your outfit becomes a canvas showcasing the beauty of cultural exchange and unity, making a bold and respectful fashion statement that transcends borders and tells a story of interconnectedness.
Bottom Lines
Graphic tees can be a versatile and exciting part of your wardrobe as it offers endless possibilities for creative styling, lets you express your individuality, and keeps you up to date with the latest fashion trends.
With a wide appeal, graphic Tees carry nostalgic sentiments, artistic designs, creativity, political messages, and deep cultural essence. They have become an integral part of pop culture and progressing fashion sense, often featuring references to music, sport, movies, internet memes, or simply serving as a way for individuals to share their work, passion, and thoughts with the world.
It doesn't matter whether you're into intricate artwork, bold statements, or, minimalist aesthetics, or, seeking a casual, edgy, or elegant look, when it comes to style your Graphic Tees, – There's always something for everyone…